October 10, 2023
2023 Sustainability Report
MIDDLEGROUND'S MISSION
MiddleGround Capital has experienced substantial growth, and with it, a heightened commitment to fostering positive global change. Our Founding Partners created MiddleGround around the belief that prioritizing the well-being of our employees and the environment is integral to success and environmental, social, and governance (ESG) principles are at the center of our decision-making processes. Our annual Sustainability Report serves as an overview of the initiatives implemented at MiddleGround and across our portfolio, as well as the impacts we have achieved.
A key component to driving results is our dedicated ESG Team, comprised of experts from diverse backgrounds. This team weaves ESG practices throughout our organization and portfolio. With their help, we have made our dream of building an ethical, ESG-focused private equity firm a reality. In the words of our founders:
"As we celebrate our achievements, we also acknowledge that our journey is far from over. We recognize the evolving nature of sustainability, and we remain dedicated to continuously improving our practices and setting higher benchmarks for ourselves. We are excited to build on this momentum and drive even greater positive change in the years ahead."
MIDDLEGROUD'S INITIATIVES
The private equity industry is dominated by white men and that's even more apparent when you look at company leadership; in 2023 McKinsey listed that only 20% of MDs in the industry are women! Since our conception, we've been committed to fostering diversity, equity, and inclusion (it's only natural, given that one of our founding partners is female). Today, we're proud to have an almost 60% diverse senior management team and a 50% diverse partnership. To further the trend of diversity, MiddleGround hosts Women's Wing, a female Employee Resource Group that offers collaboration and mentorship among our female team members while offering practical skills like self-defense classes.
In addition, we believe that employee well-being should be top of mind. We take retention seriously by offering comprehensive mental health support through Better Help and implementing four-day workweeks. While these adjustments may not seem big, they yield substantial benefits. We have been ranked for three consecutive years as the Best Place to Work in Kentucky in addition to being listed as a Best Place to Work in New York AND making the United States-wide list!
Our commitment to leaving things better than we found them extends beyond our portfolio companies. We are proud to be involved with the communities that support us and aim to bring positive change wherever we go.
MiddleGround employees donated $1.3M and volunteered 893 hours in 2022.
In 2022, MiddleGround partnered with God's Pantry Food Bank and The Bowery Mission, resulting in the donation of over 5750 lbs. of essential goods.
In 2022, MiddleGround partnered with Junior Achievement in multiple capacities. We sponsored their Biztown event that teaches students real-world skills, participated in their annual bowl-a-thon, and our employees volunteered to teach students in local classrooms.
Our Managing Partner, John Stewart, committed $10M to the Gatton College of Business at the University of Kentucky to form scholarships for minorities in fields where they are underrepresented.
OUR STRATEGY
Collecting ESG data is no easy task as there are hundreds of ESG metrics at any given company and varying levels of experience in collecting it, but MiddleGround has chosen specific KPIs (Key Performance Indicators) to evaluate. Early in our firm's ESG journey, we developed a five-year ESG strategy, which includes goals like enhancing stewardship and making a lasting impact without sacrifice, which will ultimately put us at the forefront of making a difference through ESG practices.
We employ KPIs across the three pillars of ESG. In the Environmental pillar, our objective is to be a good steward for the environment, gauged by metrics like energy and water intensity, carbon footprint, and ISO 14001 certification (a framework for maintaining environmentally conscious business practices). For the Social pillar, we strive to seek partnership in all relationships, ensuring synergy in our portfolio, maintaining livable wages for employees, and aligning our portfolio companies to fit their community's values. In the Governance pillar, we emphasize accountability by maintaining board diversity and establishing ESG, audit, and compensation committees. Our commitment to fair compensation is evident through our portfolio-wide increase in hourly wages to $15, a life-changing raise for many of our manufacturers.
Our five-year strategy was born from us identifying opportunities for improvement. Our primary goal is to enhance ESG stewardship across our firm and portfolio through targeted initiatives while aligning with emerging best practices. We aim to create a positive impact without sacrificing our values, integrating quantitative ESG analyses into diligence, modeling, equity, and business operations to maximize our influence.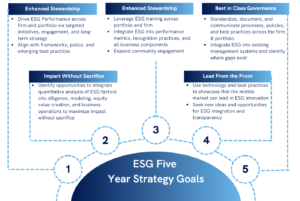 2022 KEY INITIATIVES
One of our key initiatives for 2022 was safety. After assessing needs across our portfolio, we identified a need for updated safety protocols and partnered with our Operations Team to develop a critical safety incident response program. This exercise led to the creation of a scoring matrix that considers foundational safety requirements in addition to company culture that comes together to create a positive, safe working environment. After using this matrix to score our portfolio, we identified additional opportunities for safety investment and have already seen improved safety performance. We take our responsibility to our portfolio company employees seriously and find transparency to be a key to overall improvement.
Outside of our work improving our manufacturers' safety, we're continuing to push additional KPIs such as energy efficiency, volunteerism, and employee wages forward. In 2022 we saw remarkable improvements throughout our portfolio:
Attala Steel
$192,000 Annual savings from repurposed hazardous waste
Steel Craft
42% Reduction in turnover 2021-2022

26% female workforce

Banner
47,587 LBS of CO2 emissions identified
Alco
12.3% Reduction in energy consumption
Arrow Truline
100% renewable energy

$240,000 energy cost savings

EDSCO
100% clean energy
Lindsay Precast
$20/Hr minimum wage for full time employees

50% reduction in turnover

Race Winning Brands
850 volunteer hours

25% reduction in KWH across LED lighting project

Plasman
2.3 million KWH of electricity saved by switching to LED.

49% energy from climate neutral energy sources

Shiloh
2035 Carbon neutral target
New Eagle
21tCO2e CO2 savings per EV/hybrid conversion
SixAxis
25% higher than industry average gender diversity
PVI
$30,000 in support to local philanthropies
HLC
80% re-use of all inbound cardboard